Portfolio Management for Large Dealer Groups and Lenders
Not all businesses are created equal. For vehicle finance lenders, large multi-branch auto dealers, and collateral management operators, GoldStar Enterprise makes portfolio management easier than ever. It's everything you love about GoldStar CMS®, but at scale for operations that need to increase payments, grow their portfolio by serving credit-challenged borrowers, monitor default predictors, and more.
Consolidated Portfolio View
Designed for lenders, large multi-location dealers and resellers, the dashboard monitors vehicle loans across all locations while still providing visibility into individual stores.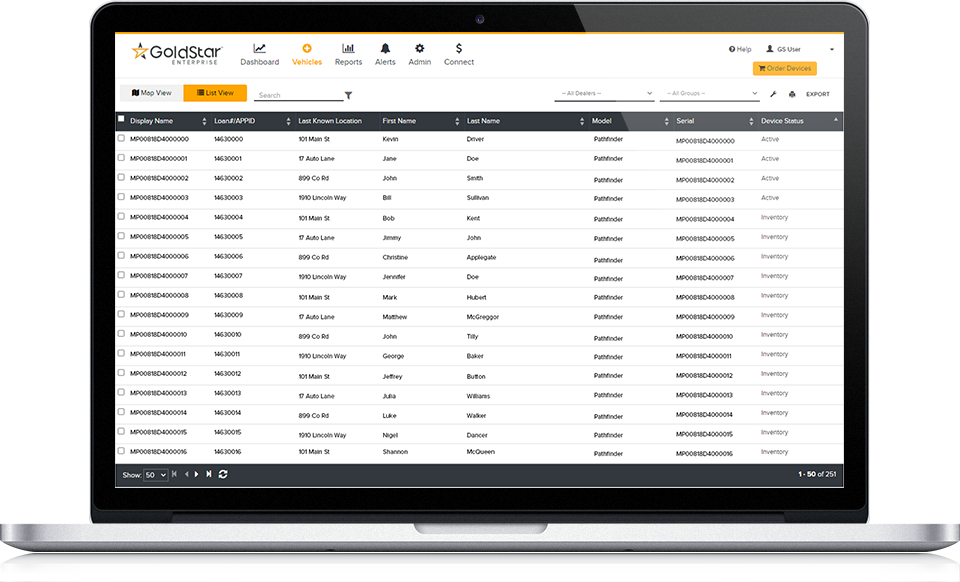 Monitor Dealer Partner Sub Accounts
With dealer partner sub-account monitoring and management, device data is reported to both lender and associate dealer accounts, regardless of how many partner dealers in your program.
Self-Service Device & Installation Ordering
Conveniently order devices and installation services within the Goldstar Enterprise portal for any location. Then, get visibility into device activation to ensure a vehicle is protected.
Solving Challenges with Real Results
See how BHPH dealers and lenders are using GoldStar to protect their dealership and assets.
Ready for a closer look?
Schedule a live demo with one of our experts today!