The Free Connected Car Solution for You and Your Customers
With the new LoJack Go consumer app, GoldStar dealers can offer customers the protection and value of connected car technology while improving payment collections, managing loan portfolios, and promoting the ongoing maintenance of every vehicle sold. It works seamlessly with existing GoldStar devices, and best of all, it's FREE.
Take Advantage of the Powerful LoJack® Brand
Give customers stolen vehicle recovery and connected car technology from the most trusted and well-known brand in vehicle protection, all while improving collections and vehicle maintenance.
Automated Loan Management for Entire Portfolio
Get free access to Carpay loan management software for your entire portfolio – not just GoldStar and LoJack Go customers.
• Real-time dashboard with loan and payment status
• Payment tracking and accounting reports
• DMS integration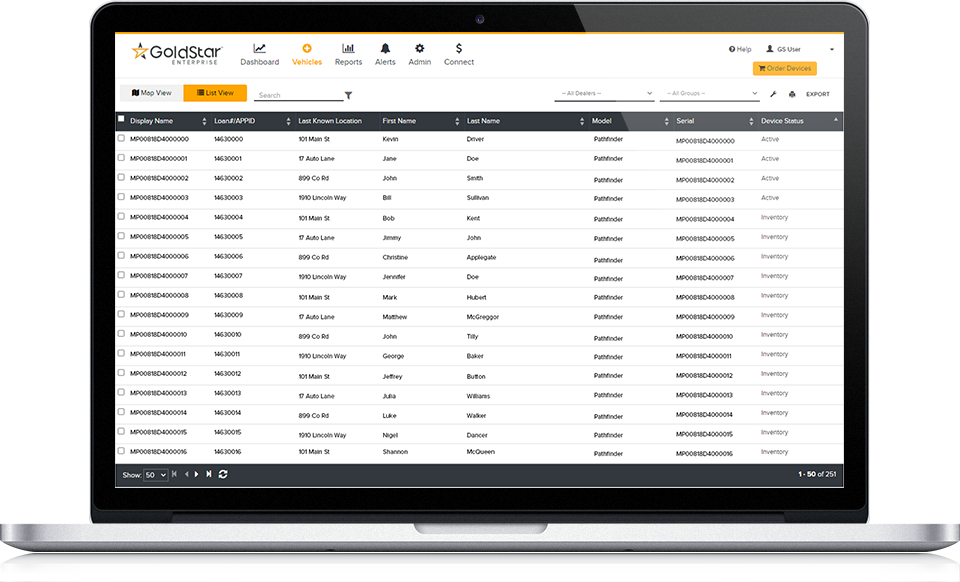 Improve Collections by 20%
Increase cash flow by 20% and reduce delinquency by 20% on average, through automated payment management notifications that let you set it and forget it!
Help Customer Maintain Your Vehicle
The RepairPal feature helps customers find certified repair shops. Includes cost estimator and online scheduling. Repairs guaranteed for 12 months/12,000 miles.
LoJack Go Requirements
To take advantage of LoJack Go at your dealership, you'll need to make sure you have:

Dealer Management Software (DMS) integration
Required for seamless passing of payment information to and fron the loan management software.
Note, not all DMS solutions will work with LoJack Go. Talk to your GoldStar representative for more information or for a DMS recommendation.
Wired GoldStar devices for the LoJack Go app
The LoJack Go app works with wired GoldStar devices whether they be Basic, Pro or Enterprise.
The app does not work with GoldStar Wireless devices, however, your entire portfolio, including customers with wireless devices installed, can still use the loan management software.
Offer LoJack Go Today!
Schedule a live GoldStar demo with one of our experts!