For BHPH Car Dealers
The #1 GPS Solution
More Payments, Sophisticated Monitoring, and Quick Recovery
GoldStar provides reliable, real-time tracking devices that allow you to sell to more customers, maintain prompt payments, and quickly recover vehicles when needed. When you choose GoldStar GPS, you choose the #1 GPS provider in the U.S. With over 15 years of experience and thousands of dealership customers, you can rest assured that you're getting a reliable partner for realizing your business goals.
Enterprise Portfolio Management
Vehicle finance lenders, large multi-branch auto dealers, and collateral management operators need a robust portfolio management solution. GoldStar Enterprise is designed for large operations that need real-time business intelligence to offer more loans while decreasing delinquencies and repossessions.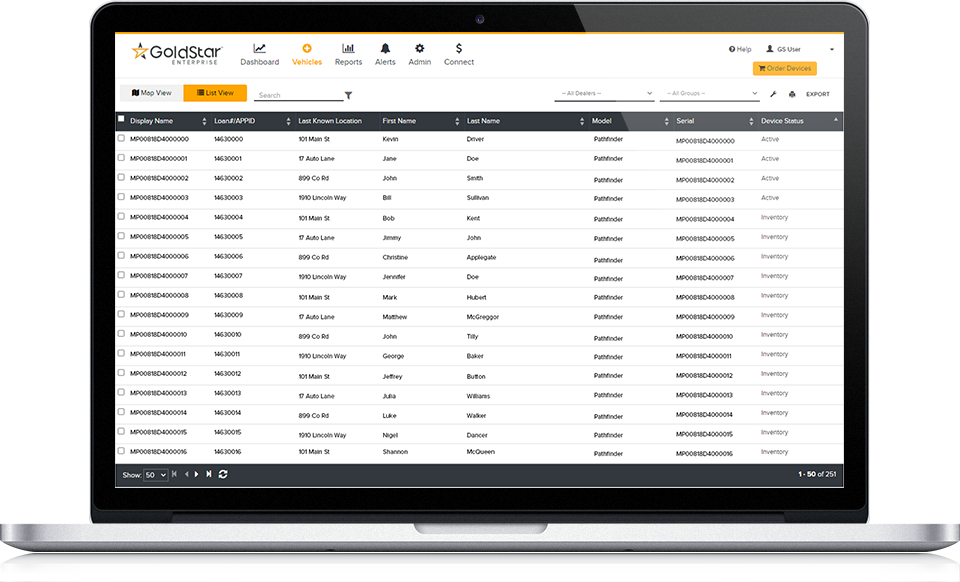 Connect and Protect Customer Vehicles
Stand out from the competition by offering connected car technology to the used car segment. Using existing GoldStar equipment, customers can monitor vehicle location, battery levels, geofences, and more.
Installation Services
Nationwide Installation
The largest certified installation network includes more than 300 insured installers who are ready to fulfill your install request in 24–48 hours, as well as deliver a 15% performance improvement over other installations.
Ready for a closer look?
Schedule a live demo with one of our experts today!