BHPH Auto Dealers
Enterprise-Level Collateral Management for Lenders and Dealer Groups
Consolidated Portfolio View
Designed for lenders, large multi-location dealers and resellers, the dashboard monitors vehicle loans across all locations while still providing visibility into individual stores.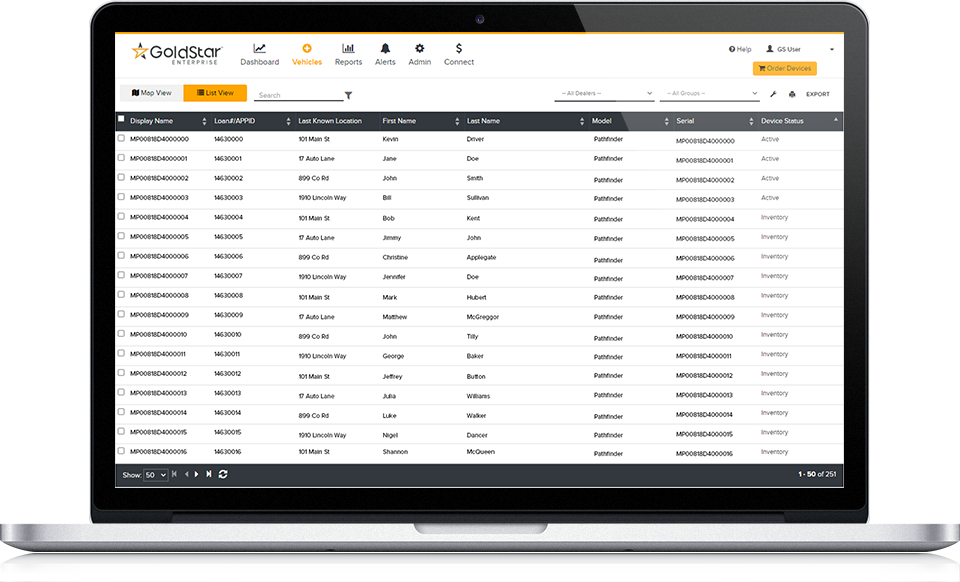 Streamline Dealer and Partner Operations
Manage dealer partner programs and delegate workflows to dealers within the Goldstar Enterprise portal.
Actionable Reports
Generate customized reports to get the real-time business intelligence you need to offer more loans while decreasing delinquencies and repossessions.
Self-Service Device & Installation Ordering
Conveniently order devices and installation services within the Goldstar Enterprise portal for any location. Then, get visibility into device activation to ensure a vehicle is protected.
87%
Increase their Return on Capital
84%
Report Reduced Delinquencies
78%
Have been able to finance customers with lower credit
Ready for a closer look?
See how real-time GPS tracking from GoldStar helps you sell to more customers, maintain prompt payments, and quickly recover vehicles.