BHPH Auto Dealers
Recover Vehicles with Speed and Compliance
Precise Location and Timing
The GoldStar-exclusive feature, Location GenieTM, automatically gathers data to predict the best day, time, and location to recover a vehicle if you need to.
Compliant Repo Recovery Links
Send mobile friendly links or emails to repo agents that share real-time location and history without disclosing other data. Links can be set to expire in 24 hours and up to 30 days to maintain security and privacy.
Repo Agent Logs
Keep recovery agents accountable through Recovery LinkTM access logs that show you who has viewed text and email links containing recovery assignments.
Visibility Through Geofences and Geozones
Set geographic boundaries that alert you if vehicles enter or exit city/state lines and impound lots.
Quickly Locate Your Vehicle
Through GPS technology, instantly pinpoint the location of a vehicle. Also, see how long it has been parked or in motion.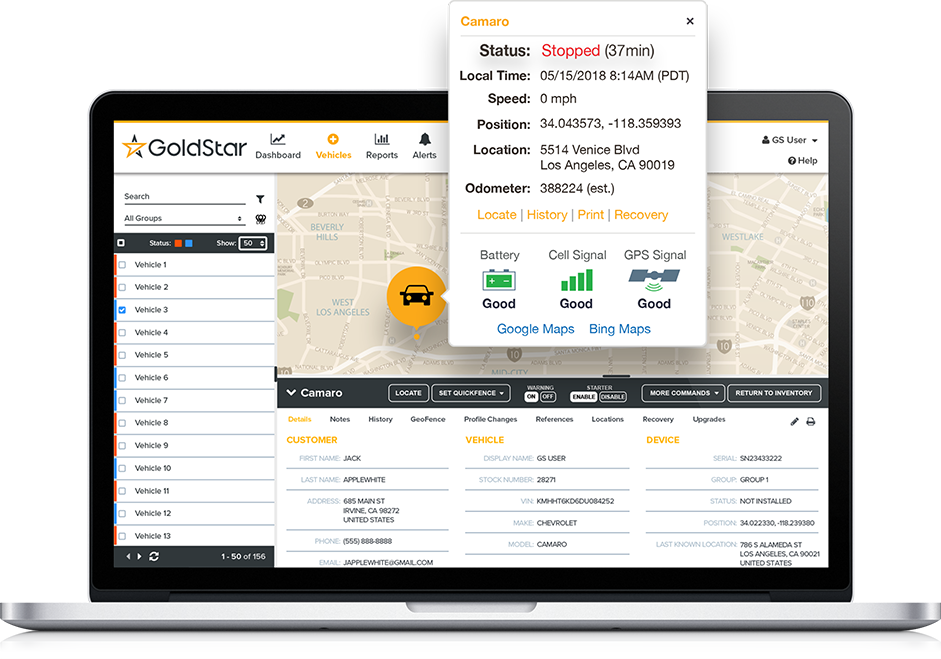 Vehicle Abandonment Alerts
Receive alerts that tell you when a vehicle has been inactive for over 7 days, so you can recover the vehicle faster and prevent it from going into default.
Ready for a closer look?
See how real-time GPS tracking from GoldStar helps you sell to more customers, maintain prompt payments, and quickly recover vehicles.