Connected Vehicle Insights for Buy Here Pay Here Dealers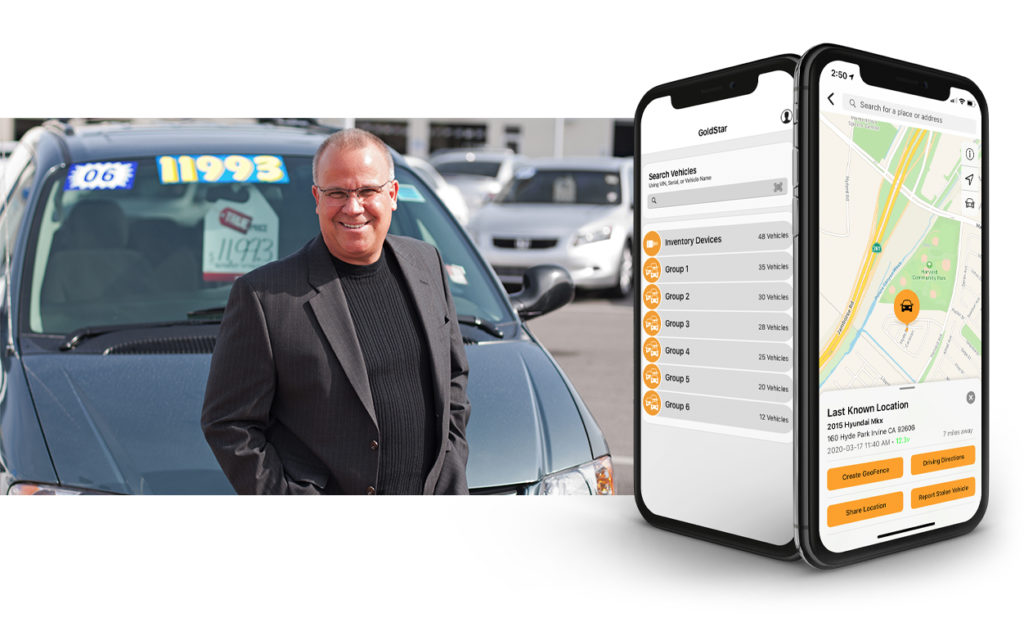 No Risk, All Reward
For a buy-here-pay-here dealer, vehicle tracking removes the risk of doing business.
GoldStar is the smart GPS solution for instant vehicle location any time, more payments, and cleaner recoveries.
Why Buy Here Pay Here Dealers Use GoldStar®
Vehicle Location
To give visibility on where assets are when a consumer is delinquent on a loan payment, Quick Locate easily pinpoints a vehicle in real-time. GoldStar can also predict where a vehicle may be with LocationGenie™ and recourse is made easy with Recovery Link if repossession is needed.
Reference Validation
To help reduce risk of lending to a subprime buyer, a quick and easy way to verify the buyer's references is needed when they approve a loan. ReferenceGenie™ is a patented technology where data is collected and analyzed to validate work and home addresses – alerting the lender as quick as 24-48 hours if the information was fraudulent.
Proactive Management
The goal of the subprime dealer/ lender is to KEEP consumers in cars, driving. Proactive alerts for vehicle abandonment, tow lots, battery disconnects are early warning signs of default giving insight into why the car is not moving and the ability to reach the consumer and stop problems before they start. It saves on costs and increases profitability.
Payment Collection
To improve collection efficiencies and stay within the compliance regulations of contacting a consumer, GoldStar provides data rich reports to determine when, where and the best way contact can be made to collect payments. Audible payment reminders (buzzer) can also be deployed to remind the consumer their payment is past due
"We feel more secure financing a Buy Here Pay Here customer having the device on."
– Karen Bolivar, Finance Manager, Trusted Motors
"Using GoldStar, I'm now able to locate my vehicles earlier, reducing my recovery time and cost as well as reconditioning costs."
Owner, Membership Organization